We proudly announce the opening of our new specialized plant dedicated to the manufacturing of milled acetate sunglass and optical frames. Planning and investment for this new endeavor commenced in 2021 and our acetate production site delivers technological innovation, digital transformation and sustainability.
For over 35 years, Mirage has been a manufacturing house at the forefront of cutting-edge innovation, technology and craftsmanship in its production of luxury, premium sport, fashion and lifestyle injected sunglass and ophthalmic frames.  It started in the 80's, when Mirage pioneered and introduced the eyewear industry to the use of Grilamid material. Throughout the years we have grown into one of the leading manufacturing companies of injected premium eyewear.
The evolution of our house continues with the opening of our Milled Acetate Production wing.
"The idea to introduce milling technology is not new: in the recent years we have registered growing demand of this kind of product by our customers that have been partnering with us for many years." – says Cristiano Milone, CEO of Mirage S.p.A. – "Our present production capacity is about 100.000 pieces per year, with the plan to increase these volumes short and long term." Internal capabilities and equipment allow for the fabrication of comprehensive eyewear including design, frame front and temples production, lens edging, finishing and packaging.
Transforming and bringing new life to a building constructed in the 1950's, our new facility is the result of an energy efficient renovation and is equipped with solar panels. There is zero use of natural gas, as the air conditioning and heating systems are powered by renewable electric energy. Additionally, in progression with Mirage's sustainable and environmental protection philosophy, an EMS according to UNI EN ISO 14001-15 is in process and soon to be implemented.
In production, we use cellulose acetate and bio-based acetate of vegetable origin (for example Mazzucchelli's M49). We are in the process of and will soon obtain ISCC PLUS certification, for using circular materials which have both a recycled component and a bio-based one (such as Mazzucchelli's Acetate Renew).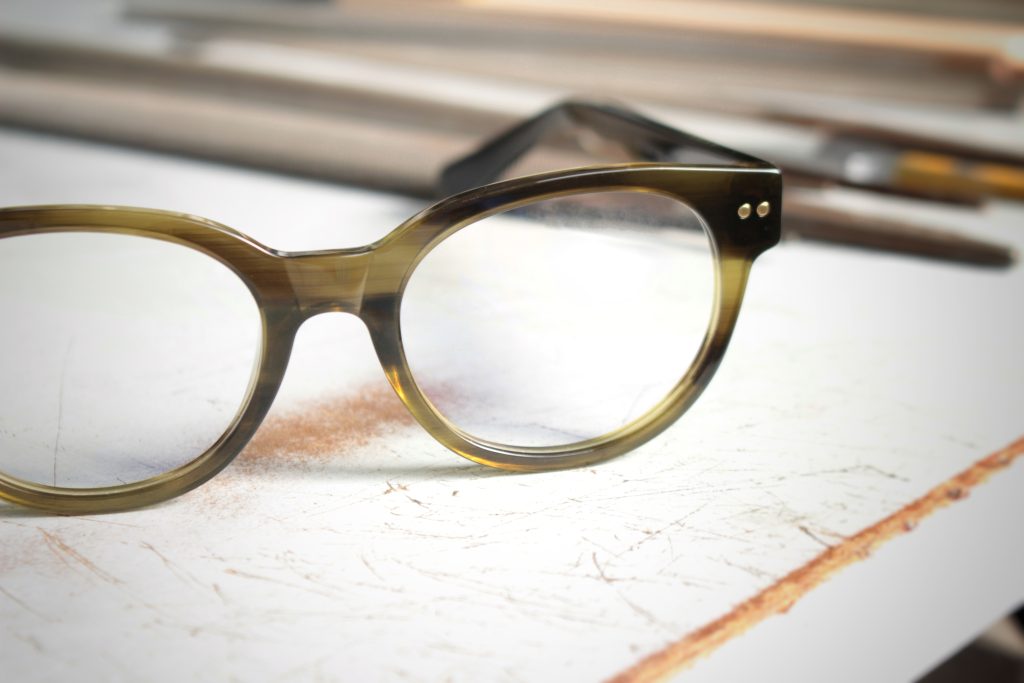 In keeping with our values of technological innovation, excellence and expertise, our milled acetate facility is furnished with state-of-the-art digitally automated and robotic milling equipment, breaking the rules of the traditional handmade methods of the industry while keeping alive the beautiful and elegant handcrafted elements of acetate frames.
"Our choice of investing in new technologies is to allow our production process to be more efficient and offer innovative products.", – explains Matteo Milone, CEO of Mirage S.p.A. – "but machines without humans are nothing: there are more and more technical, digital and management skills involved to set production and optimize the process. Thus, our team's training and competences have grown and we are proud to say that we provide high quality and service."
All of our equipment is integrated with 4.0 technology and connected to our ERP system allowing production data control, remotely and automatically, ensuring highly managed production lots. Our new plant also embraces the "Lean" philosophy, for the simplification of the company processes. Mirage is not new to the process of digitalization; in fact, the company has a profile for 65% in line with 4.0 digital transition, according to the Digital Assessment conducted by Digital Innovation Hub Lombardia in collaboration with Confindustria Varese.
We are excited for this new venture and are continuing to expand our horizons.